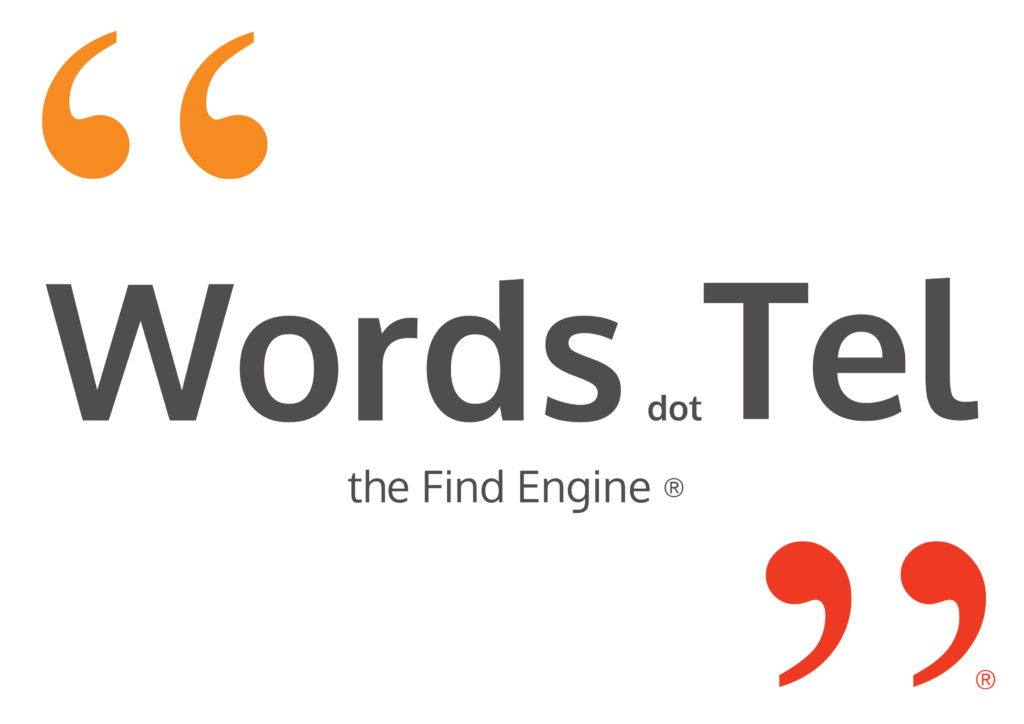 Table of Contents
Chapter 1: Introduction to Words.Tel
I was cruising down the road one summer day in 2022 when I spotted a tradesman's van that I needed to remember for later. But, (like many of us), I struggle to recall phone numbers, long website addresses and contact details: there was nothing on the van to immediately jog my memory. The thought of later sorting through irrelevant ads and promotions on search engines or social media wasn't appealing either, so I knew I would simply forget about it – as usual!
And that's when I realised that nowadays, with the massive adoption of the internet and with all the memorable domain names taken, it's become harder to be easily remembered and found online without competitors, promoted content, ads, or algorithms. And on the other end, for users it's difficult to remember and then directly find what they're interested in, in an easy, intuitive and memorable way.
I started thinking there must be a way to start again by using just our memory to remember and find online what we need. By associating this with a short, memorable phrase that is meaningful to what we need to remember, this is possible. It might be a description, something witty or funny, but always something short and memorable that doesn't need our phone, camera QR codes, or browser to be remembered.
Using short, memorable phrases uniquely linked to (and chosen by) a business or person, it's an easy way to remember and directly find anyone. And on the other side, for businesses, it's a simple and creative way to be memorable and easily found without money constantly being thrown at search engines, SEO, socials, competitors, ads etc. This gives everyone a way to use the secret marketing weapon that's been used by all the most famous companies for decades: taglines and hooks!
Chapter 2: How Words.Tel works
Words.Tel is a modern and unique platform that offers businesses a new way to be easily remembered and found. With Words.Tel, businesses can use their existing taglines or create their own using our AI, and then have a platform, (in the form of a website, mobile app and on Alexa smart speakers), where they independently own their memorable phrase(s) and can use them to be found. To be an effective marketing message, anyone needs to be able to remember them.
The Words.Tel experience starts with the creation of your tagline or by using our AI to help generate one for you, in case you don't have one or you desire inspiration. The platform's AI algorithm is designed to ask a few questions and then suggests custom-tailored taglines. You get multiple choices, allowing you to choose the tagline that best represents your brand or to be inspired by a new one.
Once you have a tagline, for a very low subscription (starting from £2 per month), you uniquely keep ownership of that tagline on the Words.Tel platform. This means the tagline belongs only to you and cannot be used or purchased by anyone else!
So for example, if you work in plumbing you could own the phrase "Fix My Toilet" and advertise your business using it, then anyone searching that phrase on Words.tel website, mobile app, or with Alexa, will be presented directly with your SEO-optimised business page on Words.Tel with all your information. You can think about it as the old telephone index but using short, catchy phrases!
The information that you want to show can be effortlessly updated and managed using our straightforward Dashboard, giving you the freedom to share a description, news, contacts, links, or any other information you want. From the Dashboard it's easy to update billing details, contact details, change your current plan, and manage your phrases.
And if you're an agency or need to deal with phrases in bulk, for example managing them for your clients or campaigns, we have a product specifically for you that adds Teams, bulk upload and management, campaigns, stats and more!
We have an established roadmap with more features, including a marketplace where users can buy and sell their taglines in a regulated and secure way. This will provide an opportunity for users to monetize their taglines and for others to purchase unique and memorable phrases for their own businesses.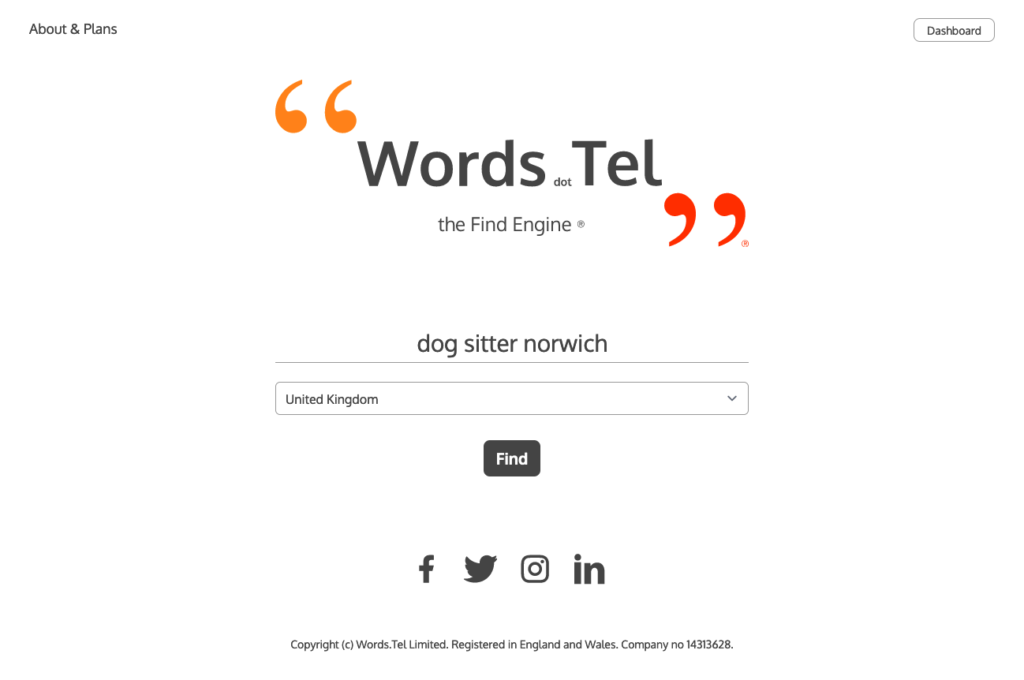 Chapter 3: The advantages of Words.Tel for businesses
The benefits of using Words.Tel are extensive, so let's take a look at what the platform can offer you.
Perhaps most importantly, businesses have complete control over the information that is displayed when someone looks for their tagline. Additionally, they have a dedicated SEO-optimised page on the Words.Tel website with their tagline as part of the URL. This page doubles down as their potential unique point of contact on the internet instead of having to maintain another website, and can be used also as link collector, ("link in bio"), for their socials. We also provide a readymade QR code leading directly to their page.
Words.Tel's platform is based on a website, mobile app for iOS and Android, and Alexa smart speakers, making it easy for businesses to be found by their customers no matter their favoured search method. This means businesses gain an immediate presence on all of these platforms by simply using their tagline on our platform. Existing and potential new customers can use Words.Tel for free and immediately without any account or ads on website and mobile.
Smart speakers are installed in half of the households in UK alone, and finding your plumbing services company will be as simple as "Alexa ask The Find Engine the number of fix my toilet". As we include smart speakers on our platform, you can be sure that you aren't missing out on a crucial opportunity for new customers.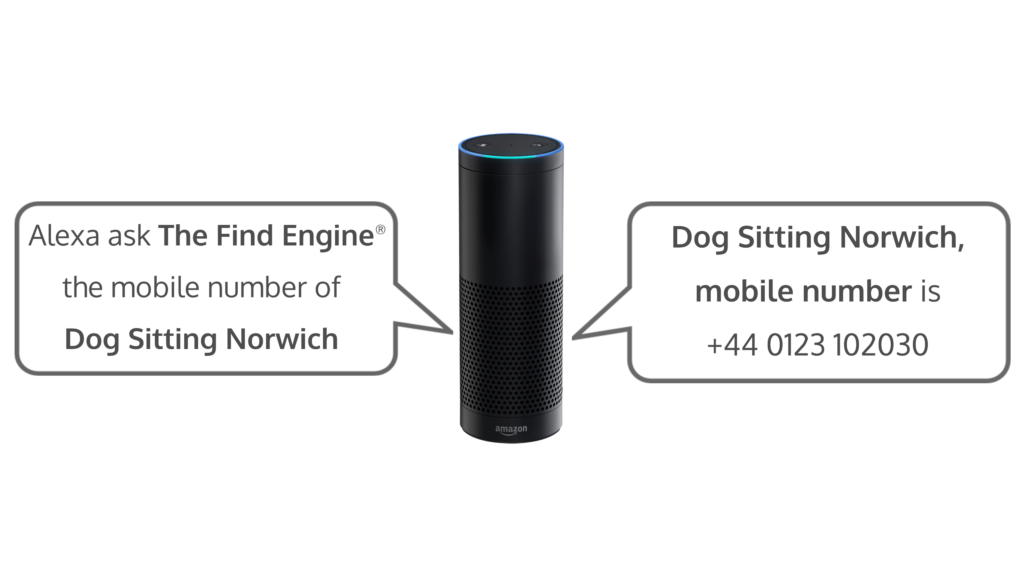 As for users of the mobile app, they can save all their favourite taglines on their phone instantly, share it with others via vCard, so they'll come back to you more easily, and they'll be able to do all of that even when offline once they save you as a favourite!
Another important aspect of Words.Tel is privacy. Unlike traditional search engines or social media, Words.Tel does not use cookies, tracking, or data collection, making it a privacy-focused option for businesses. So with Words.Tel, there are no competitors, no ads, and no promoted content for you, but also for your customers. Businesses can be sure that they are receiving the exposure they deserve, without any distractions. No one else can appear when people type your tagline!
We're not a search engine, and we're unlike any other search engine, with us there's no search, only finding directly what you need. That's why we're called The Find Engine.
Chapter 4: The advantages of Words.Tel for users
When it comes to finding the right business, it can be challenging and usually time-consuming. First of all, you have to remember details about that business, and with easy/short domains all gone and hard-to-remember contacts, it can be difficult. Or it could require taking a photo, retrieving it later, having to type the address, or scanning a QR code to do the same.
You might then search on Google, but that usually takes time and ends in many irrelevant results. On top you have promoted contents, and then the first positions depends on SEO ranking (if the business has a website at all). Or you could turn to social media, where you'll find the same problems.
That's where Words.Tel comes in. Using our platform, users can easily find businesses or services by their unique tagline (that they saw on a van, a flyer, an online ad etc.). Whether it's "brew with a view" for an artisan cafe or "fix my toilet" for a plumber, you'll arrive directly at what you wanted in the first place.
Instead of scrolling through pages of search results or social media, you have a very accessible, ad-free and uncluttered page with all details the business wanted to publish, always up to date.
In terms of practicality, one big advantage is our mobile app. Download it once, find all of the taglines there, save them as favourites, and then access them also when offline! Or maybe you're at home and you have an Alexa-enabled smart speaker: just ask The Find Engine about "brew with a view" (because a friend told you or you read it on socials), and you'll get it directly, knowing it is exactly what you needed because a tagline can bring you only to one business.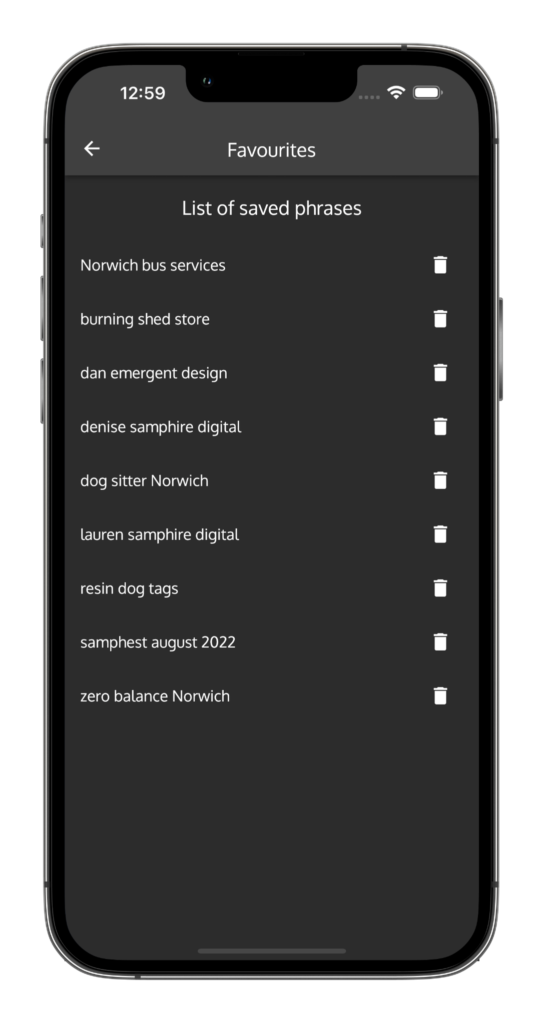 One important thing to remember: Words.Tel is free to use for all users, and we'll never ask you to create an account or collect your data. There's no premium plan for better results; no algorithm with us.
And this brings us to another advantage that makes us different: privacy. Words.Tel is unlike search engines or social media platforms that collect user data and track their online activity. We don't have ads, we don't use cookies, tracking, or data collection. This means users can confidently search for businesses, knowing that their privacy is respected.
Chapter 5: Words.Tel in action
The cafe shop. A small and cosy artisan coffee shop in the historic city centre is having a hard time getting noticed among all the competition in the area. They want to transform their small cosy size from a potential disadvantage to a differentiating feature, and they know that their beautiful location and lovingly brewed coffees are their strong selling points. They decide to try Words.Tel and create with our AI three memorable phrases: "steamy sips", "brew with a view" and "brewtiful coffee" (all really by our AI!). By using Words.Tel's platform, these taglines on all of their online and offline advertisement enables them to send their marketing message, while simultaneously being remembered for being unique. Both old and new customers have an easy and engaging way to recall and share the contact.
At the shop, they put stickers on their doors with our recognisable double quotes logo and their taglines to reinforce their marketing. Using their dashboard they've filled their page on Words.Tel with all of their contact points, socials, details, location, opening times, and an exclusive discount code! And because they have three taglines, they get all of this for just £5 per month, including three pages/URLs reflecting their taglines (https://words.tel/gb/steamy-sip, https://words.tel/gb/brew-with-a-view and https://words.tel/gb/brewtiful-coffee), so they can use each of them depending on what and where they're advertising. What's more, they can also be found in the same way on mobile phones and Alexa smart speakers!
The marketing agency. A marketing agency creates multiple taglines with Words.Tel, each one focusing on a different area of their services. The taglines are simple and memorable, such as "Marketing made easy", "Creating success stories", "Rank and shine" and "Digital SEOlutions". And they start then offering the same to their clients, (with clients' phrases managed on their special Agency Dashboard on Words.Tel), providing them with the power of memorable branding and bring easy to find. The agency starts using its taglines on all their advertising material (e.g. "find 'Digital SEOlutions' on words.tel" or simply showing "Marketing made easy" enclosed in our trademarked double quotes logo), and using the agency's Words.Tel tagline page as the central point-of-contact page and URL collector on all of their socials, (https://words.tel/gb/create-success-stories), every time making their memorable phrase the message and the way to find them, every time reinforcing their marketing message in a coherent communication strategy reinforcing their brand and their memorability.
The tradesman. A tradesman, our famous (by now!) plumber, has a van with all their contact details, but not the time or expertise to maintain a website or app, and can't spend money on SEO or ranking. He knows it will be hard for people to remember their contact details on the van, which is also not visually appealing or capturing attention. They get "fix my toilet" on Words.Tel, and for just £5/m they also secure a couple more variations of the phrase, like "Norwich fix my toilet" and "fix my toilet in Norwich" because they're based in Norwich. And now they also have a website, SEO optimised, available at https://words.tel/gb/fix-my toilet. Moreover, they have a QR code leading directly to their page! So they add a big sticker onto their van, visible from far away, with "Fix My Toilet" enclosed in our trademarked double quotes, with the URL page they get from Words.Tel as a website repeating the phrase, the QR code and a simple "Find me as 'FIX MY TOILET' on Words.Tel". They can also use symbols people immediately recognise, like mobile app symbols or Alexa, and they'll know immediately what to do. No hard-to-remember contact details, just a tagline everyone will remember with a good laugh, (positive emotions helps memory and influence our decisions!), and an instant presence on all of the major online platforms.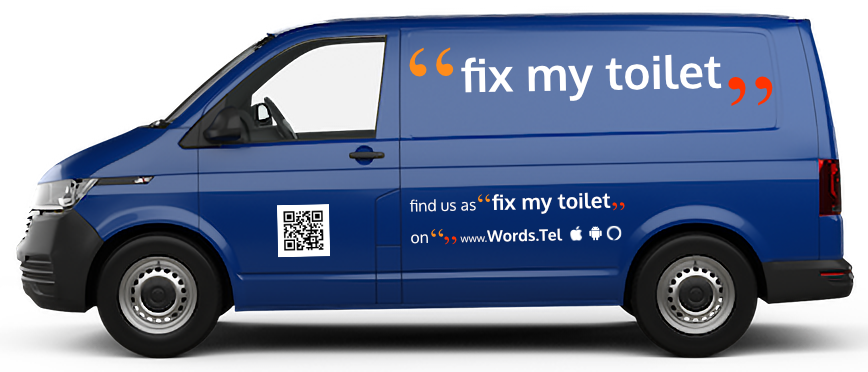 Chapter 6: Join the new way to be memorable and found
Words.Tel is a revolutionary idea, a new disruptive platform challenging the stagnating market of search engines and social media, and the seemingly inevitable (until now!) amount of ads and algorithms manipulating users on these platforms. And for businesses, we help to bypass the constant battle with ranking, SEO, competitors and irrelevant results, and all of the relative costs.
Search engines and socials want you to spend time on their platforms instead of quickly finding what you need because they make money selling ads. And that means they make it difficult for businesses because as well, because they are the ones buying the ads. All of that while collecting all sort of data. A simple but ruthless way of making a lot of money, as we all know, with no consideration for the experience of users and businesses.
We want to disrupt this, as we think searching and scrolling through pages of results or timelines to find something is not right, and it's a constant battle for visibility and ranking: On Words.Tel, there's no need to search, no ads, no competitors, no data collection – businesses have unique identities via memorable phrases, and users can directly find what they need. We are the Find Engine.
Taglines/hooks (or short memorable phrases) have been the secret behind big and small companies' success for decades, but it was difficult because it needs a way to use them coherently across all communications media, all the time. We made the platform to make, use and own taglines, hooks and short memorable phrases, available to everyone to be remembered and found. We want to change the way businesses approach online visibility and branding, and the way users can remember and find what they need.
Welcome on board, get your phrases, or invent new ones – before someone else does! We're starting the 'memorable phrases gold rush' like it happened with domains: join the waiting list now to have access to the platform and get your taglines before anyone else!
My name is Giancarlo Erra and I am a creative entrepreneur with a diverse background in the arts and technology. As a composer, producer, and IT engineer, I have spent over 20 years working in the creative industry as a studio engineer, producer, and IT consultant. I am the Director of Widescreen Studio Limited, CEO and co-founder of Words.Tel Limited, founder of Tweetify It and Copy Forge AI, co-founder of Audioshapes AI and founder of the festival-headlining music group Nosound.